Description
Xeno-free and chemically-defined medium devoid of animal- or human-derived components. For stem cell expansion or other uses that must avoid variability due to undefined animal components. Choose when media must be entirely free of animal-derived components, serum & albumin, replaced with recombinant or synthetic growth factors, amino acids, vitamins, lipids, insulin, etc.
Why Choose Cell Applications Xeno-Free Media?
Cell growth otimized

Prepared in cGMP facility

QC tested & validated

Reliable supply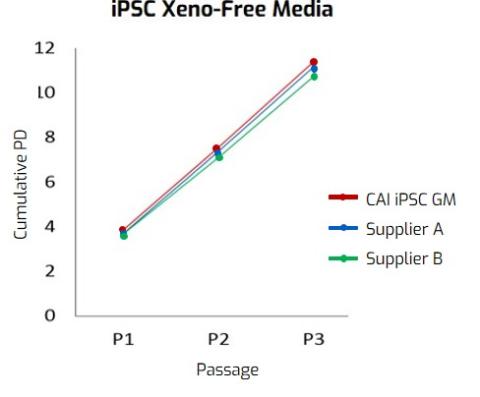 Data representing performance comparison of iPSC Xeno-Free
growth
medium in 3 continuous passages
Details
CAI media are tested for sterility in order to confirm no bacteria, yeast or fungi contaminate the solutions. The products undergo further quality control for correct pH, osmolality and lack of endotoxins. A panel of different bioassays affirm the media sustain a proper environment for expected cell-type-specific culture, growth, plating, karyotype, physiology, morphology, viability, population doublings, surface markers, cryopreservation, differentiation and/or induction.
Products
| Product | Size | CAT.# | Price | Quantity |
| --- | --- | --- | --- | --- |
| HiPSC Growth Medium: All-in-one ready-to-use, growth supplements pre-added, no mixing necessary.  Recommend use within 2 weeks (Or use Kit for longer storage). | Size: 500 ml | CAT.#: 015XF-500 | Price: $227.00 | |
| HiPSC Growth Medium Kit: Basal medium and growth supplement packaged separately | Size: Yields 500 ml | CAT.#: 015XFK-500 | Price: $233.00 | |
| HiPSC Coating Solution, Xeno-Free: Truncated Vitronectin, no animal components, pre-diluted and ready-to-use for coating tissue culture ware | Size: 100 ml | CAT.#: 126XF-100 | Price: $175.00 | |
| Human EpiVita Xeno-Free Growth Medium: All-in-one ready-to-use | Size: 500 ml | CAT.#: 141XF-500 | Price: $122.00 | |
| Human EpiVita Xeno-Free Growth Medium Kit: Basal medium & growth supplement sold together packaged separately | Size: Yields 500 ml | CAT.#: 141XFK-500 | Price: $133.00 | |
| Human EpiVita Xeno-Free Growth Supplement: Added to Basal Medium to create Growth Medium | Size: 5 ml | CAT.#: 141XF-GS | Price: $61.00 | |
| HDF Growth Medium, Xeno-free: All-in-one ready-to-use Xeno-Free for HDF  | Size: 500 ml | CAT.#: 116XF-500 | Price: $137.00 | |
| HDF Growth Medium Kit, Xeno-free: Basal medium and growth supplement packaged separately   | Size: Yields 500 ml | CAT.#: 116XFK-500 | Price: $147.00 | |