Instructions RNSC
5 Important Cell Culture Rules
MSDS Cryopreserved Cells
Cell Apps Flyer Brain Cells
Cell Apps Poster Primary Cells
Cell Applications Inc Brochure
Description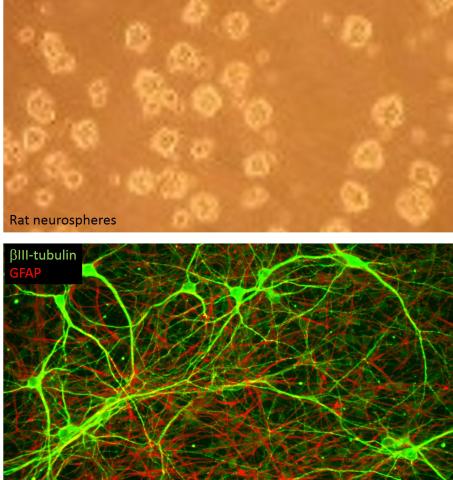 Rat Neural Stem Cells (RNSC) are multipotent, and can be induced to differentiate into neurons, astrocytes and oligodendrocytes that make up the central nervous system (CNS). The ability of neural stem cells to retain multi-lineage potential and proliferate extensively in vitro provides new avenues for the treatment of neural degenerative diseases and injuries. Isolated from fetal or adult rat brains, RNSC are maintained in an undifferentiated, proliferative state by culturing them as free floating neurospheres in serum-free medium optimized with growth factors.
Image: The RNSC depicted here have formed neurospheres (top), and are stained for β-tubulin III (green) and GFAP (red) (bottom)
RNSC are cryopreserved at first passage and can be cultured and propagated for 1-2 passages prior to induction of phenotypic differentiation. Differentiated RNSCs are positive for β-tubulin III, GFAP and the oligodendrocyte marker O4 when cultured in Rat Neural Differentiation Medium. When cultured in Rat Neural Stem Cell Growth Medium, RNSC form the neurospheres that when transplanted into intact brain, survive, expand and differentiate into mature neurons, astrocytes and oligodendrocytes in 3 weeks.
Details
| | |
| --- | --- |
| Tissue | Normal healthy rat brain cerebral cortex |
| QC | No bacteria, yeast, fungi, mycoplasma |
| Character | β-tubulin III, GFAP & O4 in Differentiation Med |
| Bioassay | Form neurosphere in RNSC Growth Med |
| Cryovial | 2,000,000 RNSC (1st passage) cryopreserved in Freezing Med (040-50) |
| Kit | Cryovial frozen RNSC (RS820-20f), Growth Medium (R813-250), Neural Stem Cell Dissociation Solution (076-20), 10cm non-TC dish x2 |
| Cultured | Shipped in Gr Med, 2nd psg (flasks or plates) |
| Doublings | At least 2 |
| Applications | Laboratory research use only (RUO). Not for human, clinical, diagnostic or veterinary use. |
Products
| Product | Size | CAT.# | Price | Quantity |
| --- | --- | --- | --- | --- |
| Cryopreserved Rat Neural Stem Cells (RNSC), fetal: Frozen RNSC (2x10^6) | Size: 1 Cryovial | CAT.#: RS820-20f | Price: $665.00 | |
| Cryopreserved Rat Neural Stem Cell Total Kit, fetal: 2x10^6 Cells (Fetal) & Medium (See Details tab for specifics) | Size: 1 Kit | CAT.#: RS820K-20f | Price: $838.00 | |
| Proliferating Rat Neural Stem Cells (RNSC), fetal: Actively growing, dividing cells, in medium | Size: T-25 Flask | CAT.#: RS821-25f | Price: $665.00 | |
| Proliferating Rat Neural Stem Cells (RNSC), fetal: Actively growing, dividing cells, in medium | Size: T-75 Flask | CAT.#: RS821-75f | Price: $855.00 | |
| Proliferating Rat Neural Stem Cells (RNSC), fetal: Actively growing, dividing cells, in medium | Size: 96 Well | CAT.#: RS821-96Wf | Price: $975.00 | |
Related Products
| Product | Size | CAT.# | Price | Quantity |
| --- | --- | --- | --- | --- |
| RNSC Basal Medium: Basal medium (contains no growth supplement).  Add GS before use. | Size: 250 ml | CAT.#: R812-250 | Price: $52.00 | |
| RNSC Differentiation Medium, Astrocyte Lineage: Differentiates RNSC to Astrocytes | Size: 100 ml | CAT.#: R813D-100A | Price: $70.00 | |
| RNSC Differentiation Medium, Neuron Lineage: Differentiates RNSC to Neurons | Size: 100 ml | CAT.#: R813D-100N | Price: $84.00 | |
| RNSC Differentiation Medium, Oligodendrocyte Lineage: Differentiates RNSC to Oligodendrocytes | Size: 100 ml | CAT.#: R813D-100O | Price: $70.00 | |
| RNSC Differentiation Medium: General RNSC Differentiation Medium | Size: 250 ml | CAT.#: R813D-250 | Price: $147.00 | |
| RNSC Growth Medium: All-in-one ready-to-use | Size: 250 ml | CAT.#: R813-250 | Price: $136.00 | |
| RNSC Growth Medium Kit: Basal medium & growth supplement sold together packaged separately | Size: yields 250 ml | CAT.#: R813K-250 | Price: $147.00 | |
| RNSC Growth Supplement: Added to Basal Medium to create Growth Medium | Size: 10 ml | CAT.#: R813-GS | Price: $114.00 | |
Extended Family Products
| Product | Size | CAT.# | Price | Quantity |
| --- | --- | --- | --- | --- |
| Cyto-X Cell Counting Reagent Sample: 100 tests | Size: Sample | CAT.#: 028-S | Price: $41.00 | |
| Cyto-X Cell Counting Reagent: 500 tests | Size: 1 Bottle | CAT.#: 028-01 | Price: $160.00 | |