Smooth Muscle Cells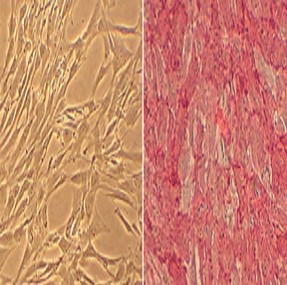 Vascular Smooth Muscle Cells line the vessel walls of large and small arteries, arterioles and veins. Smooth muscle cells play a critical role in cardiac and vascular diseases, including stroke and atherosclerosis.
Cell Applications, Inc. offers a wide variety of primary smooth muscle cells fom different tissues, species, and vascular bed smooth muscle. All smooth muscle cells are high purity, low passage, rigorously characterized, and performance tested. They are available as cryovials or as proliferating cells (flasks or multi-well plate formats). For your convenience, cryopreserved smooth muscle cells are offered as part of user-friendly Total Kits that include optimized Growth Media and Subculture Reagent Kits.
Matched Endothelial Cells obtained from the same arteries or veins are available as well. Co-culture of the endothelial cells with species- and vascular bed- matched smooth muscle cells provides an ideal model for studying the interaction between these two cell types.