MSDS Cryopreserved Cells
Instructions HBEpC Normal
Cell Apps Flyer Epithelial Cells
5 Important Cell Culture Rules
Cell Apps Poster Primary Cells
Cell Applications Inc Brochure
Description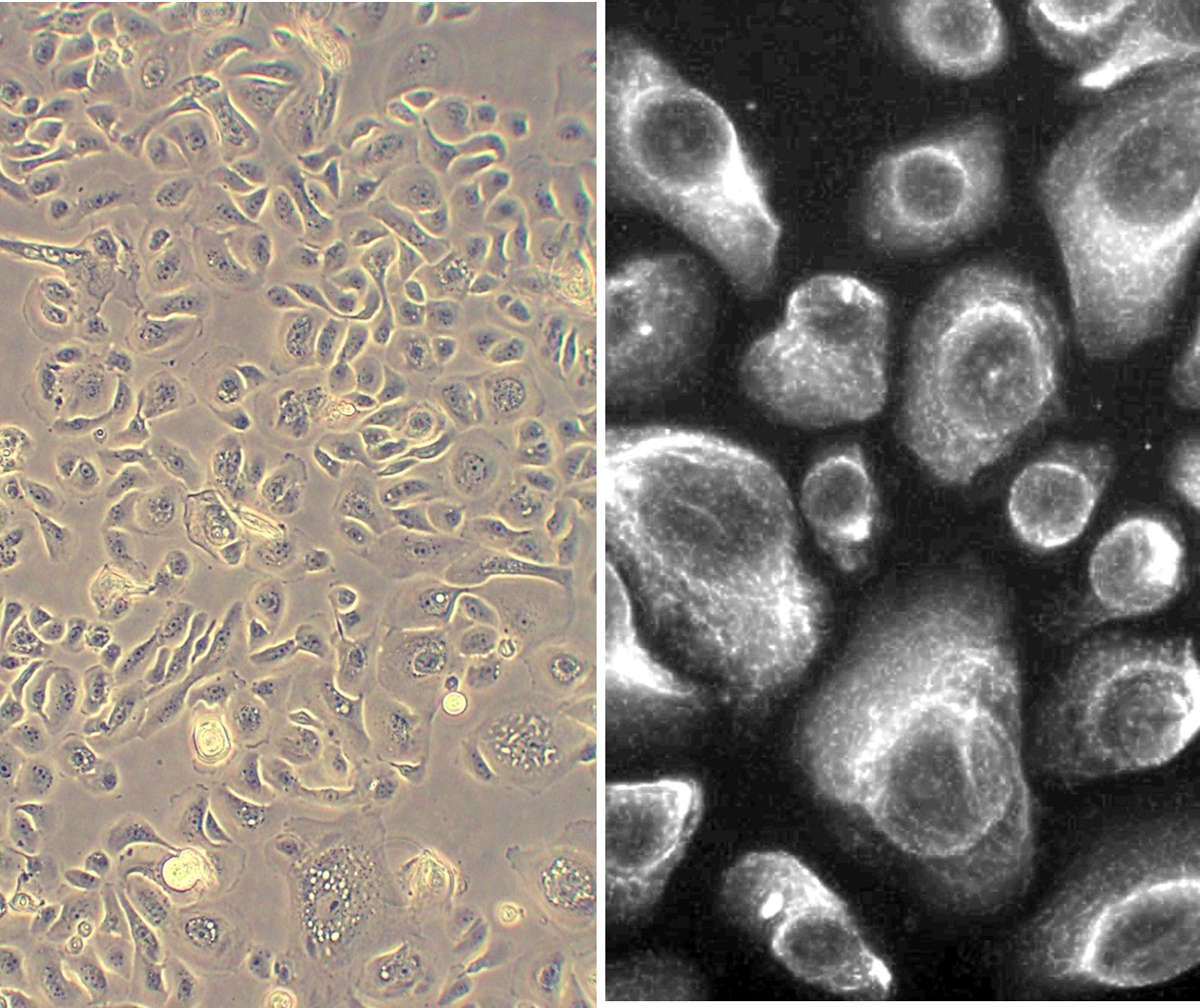 Human Bronchial Epithelial Cells (HBEpC) provide an excellent model system to study all aspects of epithelial function and disease, particularly those related to airway viral infections, as well as tissue repair mechanisms, signaling changes and potential treatments relevant to lung injuries, mechanical and oxidative stress, inflammation, pulmonary diseases and smoking. When grown on inserts and provided with the liquid/air interface, HBEpC can differentiate into a pseudostriated epithelium and serve as a more physiological 3D tissue model for in vitro studies. The HBEpC
shown here were cultured (L) and immunolabeled for cytokeratin 18 (R).

Below, HBEpC from Cell Applications are stained with ACE2 and KRT5. Ongoing research suggests ACE2 is the cellular receptor utilized by SARS-CoV-2, the coronavirus that causes COVID-19, for cell entry.

HBEpC from Cell Applications, Inc. have been used to examine:
Activation, expression and production of genes, kinases and signaling pathways by cytokines, growth factors, interleukins, binding proteins and pro-inflammatory molecules.

Stimulation-dependent, observable changes in proliferation, bronchial epithelial permeability, crosslinking of membrane glycoproteins and cell surface adhesion molecules.

Drug discovery cell screening for in vitro assay of compounds, or to extend and confirm high-throughput work done in cell lines.

Clinical focused discoveries leveraging HBEpC include therapeutics to suppress tumor gene transcription, apoptosis, inflammation, auto-immune disease and viral infection, while enhancing cell protection, repair and lifespan.

Characterization: Morphology consistent with epithelial origin, and positive for epithelial cell marker cytokeratin 18
Details
| | |
| --- | --- |
| Tissue | Human bronchial epithelium: nondiseased, Asthma, COPD, or Type 2 Diabetes |
| QC | No bacteria, yeast, fungi, mycoplasma, virus |
| Bioassay | Attach, spread, proliferate in Growth Med |
| Cryovial | 500,000 HBEpC (1st passage) frozen in Basal Med w/ 10% FBS, 10% DMSO |
| Kit | Cryovial frozen HBEpC (502-05a), Gr Med (511-500), Subculture Rgnt Kit (090K) |
| Proliferating | Shipped in Gr Med, 3rd psg (flasks or plates) |
| Doublings | At least 16 |
| Applications | Laboratory research use only (RUO). Not for human, clinical, diagnostic or veterinary use. |
Products
| Product | Size | CAT.# | Price | Quantity |
| --- | --- | --- | --- | --- |
| Cryopreserved HBEpC, Adult: 5x10^5 Cells (Adult), Medium & Subculture Reagents (See Details tab for specifics) | Size: 1 Kit | CAT.#: 502K-05a | Price: $866.00 | |
| Cryopreserved HBEpC, Adult: Frozen HBEpC (5x10^5) | Size: 1 Cryovial | CAT.#: 502-05a | Price: $695.00 | |
| Cryopreserved HBEpC-AS, Adult: 5x10^5 Cells (from donor with Asthma, Adult), Medium & Subculture Reagents (See Details tab for specifics) | Size: 1 Kit | CAT.#: 502ASK-05a | Price: $1,016.00 | |
| Cryopreserved HBEpC-AS, Adult: Frozen HBEpC-AS from donor with Asthma (5x10^5) | Size: 1 Cryovial | CAT.#: 502AS-05a | Price: $845.00 | |
| Cryopreserved HBEpC-COPD, Adult: 5x10^5 Cells (from donor with COPD, Adult), Medium & Subculture Reagents (See Details tab for specifics) | Size: 1 Kit | CAT.#: 502COPDK-05a | Price: $1,016.00 | |
| Cryopreserved HBEpC-COPD, Adult: Frozen HBEpC-COPD from donor with Chronic Obstructive Pulmonary Disease (5x10^5) | Size: 1 Cryovial | CAT.#: 502COPD-05a | Price: $845.00 | |
| Cryopreserved HBEpC-T2D, Adult: 5x10^5 Cells (from donor with Type 2 Diabetes, Adult), Medium & Subculture Reagents (See Details tab for specifics) | Size: 1 Kit | CAT.#: 502T2DK-05a | Price: $1,066.00 | |
| Proliferating HBEpC, Adult: Actively growing, dividing cells in medium | Size: T-25 Flask | CAT.#: 503-25a | Price: $695.00 | |
| Proliferating HBEpC, Adult: Actively growing, dividing cells in medium | Size: T-75 Flask | CAT.#: 503-75a | Price: $900.00 | |
| Proliferating HBEpC, Adult: Actively growing, dividing cells in medium | Size: 24 Well | CAT.#: 503-24Wa | Price: $900.00 | |
| Proliferating HBEpC, Adult: Actively growing, dividing cells in medium | Size: 96 Well | CAT.#: 503-96Wa | Price: $1,029.00 | |
Related Products
| Product | Size | CAT.# | Price | Quantity |
| --- | --- | --- | --- | --- |
| HBEpC/HTEpC Growth Medium: All-in-one ready-to-use. Cat# 511-500 fully supports cell growth on its own. Retinoic acid (RA) is a optional component; one vial of RA goes into 500ml media. Some researchers may elect to include RA if studies include cell differentiation or pseudo-stratification. | Size: 500 ml | CAT.#: 511-500 | Price: $126.00 | |
| HBEpC/HTEpC Growth Medium Kit: Basal medium & growth supplement sold together packaged separately | Size: Kit | CAT.#: 511K-500 | Price: $125.00 | |
| HBEpC/HTEpC Basal Medium: Without growth supplement (GS).  Add GS before use. | Size: 500 ml | CAT.#: 510-500 | Price: $62.00 | |
| HBEpC/HTEpC Growth Supplement: Added to Basal Medium to create Growth Medium | Size: 5 ml | CAT.#: 511-GS | Price: $62.00 | |
| HBEpC/HTEpC Differentiation Medium: Promotes cells to change from one type to another, more specialized | Size: 250 ml | CAT.#: 511D-250 | Price: $129.00 | |
| HBEpC/HTEpC Growth Medium wo Antibiotics: Growth medium without antibiotics | Size: 500 ml | CAT.#: 511A-500 | Price: $125.00 | |
Extended Family Products
| Product | Size | CAT.# | Price | Quantity |
| --- | --- | --- | --- | --- |
| 3-D Airway Model: HBEpC differentiated into pseudostriated epithelium on PCF inserts. Available only in the US. | Size: 12 Inserts | CAT.#: 502-3D-12 | Price: $769.00 | |
| 3-D Airway Model: HBEpC differentiated into pseudostriated epithelium on PCF inserts. Available only in the US. | Size: 24 Inserts | CAT.#: 502-3D-24 | Price: $1,355.00 | |
| 3-D Airway Model : Cells, Media, Reagents & Inserts (See Details tab for specifics) | Size: 1 Kit | CAT.#: 502K-3D | Price: $769.00 | |
| Monoclonal IL-1 Receptor Antagonist Antibody: Monoclonal IL-1 Receptor Antagonist Antibody | Size: 100 ul | CAT.#: CB19846 | Price: $302.00 | |
| Freezing Medium: For general cryopreservation of most primary cells. Contains FBS & DMSO. | Size: 50 ml | CAT.#: 040-50 | Price: $54.00 | |
| Cyto-X Cell Counting Reagent: 500 tests | Size: 1 Bottle | CAT.#: 028-01 | Price: $139.00 | |
| Cyto-X Cell Counting Reagent Sample: 100 tests | Size: Sample | CAT.#: 028-S | Price: $36.00 | |
| Cytofect™ Epithelial Cell Transfection Kit: 124 x 24-Well Rxns | Size: 1 Kit | CAT.#: TF102K | Price: $404.00 | |
| Cytofect™ Epithelial Cell Transfection Kit: 25 x 24-Well Rxns | Size: 1 Sample Kit | CAT.#: TF102KS | Price: $54.00 | |
| Human Epidermal Growth Factor (EGF): Human Epidermal Growth Factor | Size: 100 ug | CAT.#: RP1026-100 | Price: $86.00 | |
| Human Epidermal Growth Factor (EGF): Human Epidermal Growth Factor | Size: 500 ug | CAT.#: RP1026-500 | Price: $194.00 | |
| Human Epidermal Growth Factor (EGF): Human Epidermal Growth Factor | Size: 1000 ug | CAT.#: RP1026-1000 | Price: $264.00 | |
| HBEpC RNA, Adult: Total RNA prepared from Human Bronchial Epithelial Cells, adult | Size: 10 ug | CAT.#: 502-R10a | Price: $350.00 | |
| HBEpC RNA, Adult: Total RNA prepared from Human Bronchial Epithelial Cells, adult | Size: 25 ug | CAT.#: 502-R25a | Price: $700.00 | |
| Human IL-1 alpha ELISA Kit: Human Interleukin-1 alpha ELISA Kit | Size: 96 wells | CAT.#: CL0389 | Price: $484.00 | |
| Human Interleukin-1-Alpha (IL-1 alpha): Human Interleukin-1-alpha | Size: 10 ug | CAT.#: RP1173-10 | Price: $194.00 | |
| Human Interleukin-1-Alpha (IL-1 alpha): Human Interleukin-1-alpha | Size: 100 ug | CAT.#: RP1173-100 | Price: $624.00 | |
| Human Interleukin-1-Alpha (IL-1 alpha): Human Interleukin-1-alpha | Size: 1000 ug | CAT.#: RP1173-1000 | Price: $5,327.00 | |
| Human IL-1 beta ELISA Kit: Human Interleukin-1 beta ELISA Kit | Size: 96 wells | CAT.#: CL0392 | Price: $587.00 | |
| Human Lung RNA: Total RNA prepared from human lung tissue | Size: 50 ug | CAT.#: 1H40-50 | Price: $198.00 | |
| Human Lung RNA: Total RNA prepared from human lung tissue | Size: 250 ug | CAT.#: 1H40-250 | Price: $740.00 | |
| Subculture Reagent Kit: 100 ml each of HBSS, Trypsin/EDTA & Trypsin Neutralizing Solution | Size: 1 Kit | CAT.#: 090K | Price: $55.00 | |
| Human EGF, Animal-Free: Human Epidermal Growth Factor, Animal-Free | Size: 100 ug | CAT.#: RP1026AF-100 | Price: $95.00 | |
| Human EGF, Animal-Free: Human Epidermal Growth Factor, Animal-Free | Size: 500 ug | CAT.#: RP1026AF-500 | Price: $213.00 | |
| Human EGF, Animal-Free: Human Epidermal Growth Factor, Animal-Free | Size: 1000 ug | CAT.#: RP1026AF-1000 | Price: $290.00 | |