(Click to Enlarge) Human Umbilical Vein Endothelial Cells, HUVEC (A). HUVEC immunolabeled with VEGFR2 antibodies (green) (B). HUVEC stained with DiI-Ac-LDL (red), the acetylated apoprotein specifically recognized and endocytosed by endothelial cells (C). HUVEC form vessel-like CD31/PECAM positive (green) structures when cultured with Human Dermal Fibroblasts in the presence of VEGF.  Nuclei are visualized with PI (red) (B) or DAPI (blue) (D).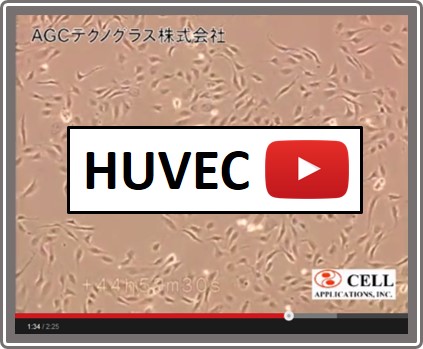 Human Umbilical Vein Endothelial Cells (HUVEC) provide a classic model system to study many aspects of endothelial function and disease, such as normal, abnormal and tumor-associated angiogenesis, oxidative stress, hypoxia and inflammation related pathways in endothelia under normal and pathological conditions, cardiovascular-related complications associated with various diseases, mode of action and cardiovascular protection effects of various compounds, etc.
Select HUVEC lots have been tested to demonstrate stimulation-dependent angiogenesis and key endothelial cell signaling pathways (phosphorylation of VEGFR, Akt, MAPK, and expression of Tie2, eNOS, Axl and Etk/Bmx). More information about pre-screened endothelial cells can be found on the Pre-Screened Endothelial Cell Product Page.
HUVEC from Cell Applications, Inc. have been utilized in numerous research publications, for example, to:
understand the mechanism of the anti-inflammatory properties of HDL, and demonstrate for the first time that mature miRNA can control gene expression in a cell where it is neither transcribed nor processed (Tabet, 2014);

show that abnormal matrix composition characteristic for systemic sclerosis leads to reduced proliferation, reduced NO-to-O2- ratio, increased apoptosis, and altered protein expression associated with endothelial to mesenchymal transition, all leading to impaired vascular function and angiogenesis (Xu, 2011);

discover a novel mechanism of inhibiting tumor angiogenesis that involves blocking VEGFR-2 kinase activity and decreasing FAK and Akt signaling by azurin-derived peptide leading to reduced remodeling of cytoskeleton and cellular adhesions, limiting migration abilities of the endothelial cells (Mehta, 2011);

show that ephrinB2-Fc inhibited tumor angiogenesis by down-regulating matrix metalloproteinase-2 expression and reducing proliferation of endothelial cells, and by reducing VEGF expression in tumor cells (Kimura, 2009) and investigate various other aspects of tumor-associated angiogenesis and metastasis (Shibata, 2006a, b; Ali, 2007; Hong, 2007; Zhang, 2010; Jane, 2011; Rivera, 2011; Rössler, 2011; Sanna, 2011; Shao, 2012; Takino, 2012);

show that matrix metalloproteinase 1 (MMP-1) activation promotes VEGFR2 expression and proliferation of endothelial cells through stimulation of PAR-1 and activation of NF-kB (Mazor, 2013) and, conversely, during prolonged hypoxia activated CREB and NF-kB can induce MMP-1 expression stimulating endothelial migration (Nakayama, 2013a, b);

investigate the role of NF-κB and JNK in ICAM-1 expression (Miho, 2005);

identify Let-7 and miR-103/107 as microRNAs induced in endothelial cells in response to hypoxia and show that they target argonaute 1 which results in desuppression of VEGF mRNA translation and increased angiogenesis (Chen, 2013); and develop a bubble lyposome based system that enables both therapeutic miRNA delivery and ultrasound monitoring (Endo-Takahashi, 2014);

demonstrate that commercially used flame retardants cause oxidative stress in endothelial cells by reducing expression of the antioxidant system genes, i.e., thioredoxin family, thioredoxin-interacting protein, DHCR24, and p53 (Kawashiro, 2009);

demonstrate that hyperglycemia increases uncoupled ER and oxidative stresses leading to endothelial dysfunction (Sheikh-Ali, 2010a, b), partially due to depletion of antioxidants and affected by fatty acids (Horani, 2004, 2006), and that glycemic control normalizes VEGFR-2 levels in ischemia and improves perfusion recovery (Docun, 2013);

discover that SIRT3 deacetylates FOXO3 to protect mitochondria against oxidative stress (Tseng, 2013);

suggest that elevated levels of free fatty acids cause prothrombotic state in patients with metabolic syndrome by inhibiting TM–EPCR–Protein C system in endothelia through activating JNK signaling (Xie, 2012);

show that Alzheimer's β-amyloid peptide exhibits anti-angiogenic properties by blocking VEGF signaling via direct interaction with VEGFR-2 (Patel, 2010);

characterize molecular composition and signaling potential of membrane vesicles released by autophagic endothelial cells in response to stress (Pallet, 2013);

show that inhibition of aldose reductase prevents the VEGF-and FGF- induced secretion of IL-6, MMP2, MMP9, ICAM, and VCAM, and inhibits migration and formation of capillary-like structures by endothelial cells (Tammali, 2011);

identify p2y5 as a novel LPA receptor, mediating endothelial cell contraction upon treatment with LPA (Yanagida, 2009);

demonstrate that stathmin, a microtubule destabilization protein, is required for accumulation of HIF-1a and hypoxia-induced VEGF expression by acting through the PI3K/Akt pathway (Yoshie, 2009);

investigate effects of molecular mobility of the outmost material surfaces on cellular adhesion and organization (Kakinoki, 2012) and to identify temporal differences in Erk1/2, JNK, Akt1, and NFκB signaling in cells cultured on different ECM components (Pauken, 2011);

investigate mechanisms of cardiovascular protection exerted by bioactive plant and fungal components, in particular showing that fungal metabolite Tetrahydroauroglaucin and sesame lignin sesaminol-6-catehcol suppressed expression of ICAM-1 and VCAM-1 in endothelial cells activated with TNF-α (Miyake, 2010, Mochizuki, 2010);

show that in low doses coumaric acid and resveratrol protect endothelial cells from ROS, but at higher doses they elicit a pro-oxidant effect mediated by activation of flavin oxidases and subsequent CYP2C9-mediated Akt downregulation, leading to cell damage and apoptosis (Pasciu, 2010; Cossu, 2012), and also to characterize beneficial effects of repeated low doses of resveratrol on endothelial cells (Takizawa, 2013);

show that combined treatment with melatonin and atorvastatin reversed lipopolysaccharide-induced damage to the endothelial cells by restoring NO synthase expression and reducing free radical generation, lipid peroxidation, and interleukin-6 levels (Dayoub, 2011);

discover that deferoxamine (DFO), an iron-chelating agent, mitigated the deleterious effects of radiation on angiogenesis in vitro and in vivo (Donneys, 2012);

show that low activity of endothelial DHFR and use of folate supplements limit the benefits of BH4 therapies aimed at normalizing NO synthesis and reducing oxidative stress (Whitsett, 2013);

study the differential effects of wood smoke and diesel exhaust particles (Forchhammer, 2012), as well as carbon nanotubes (Cao, 2014) on inducing oxidative stress and production of cytokines and adhesion molecules in endothelia;

develop scaffolds for tissue engineering (Nivison-Smith, 2010; Cha, 2013);

confirm SPNS2 role as a transporter for S1P, a bioactive lipid, by monitoring S1P release from HUVEC and HPAEC, both obtained from Cell Applications, Inc., and by showing that S1P was not released when SPNS2 was silenced with siRNA (Hisano, 2013). Additionally, quantitative real-time PCR indicated that Spns2 mRNA was transcribed at higher levels in venous HUVEC compared to arterial HPAEC, suggesting heterogeneity in the expression level of SPNS2 among different vascular beds.
Tissue:

Human normal umbilical vein.

Each lot is tested negative for HIV, Hepatitis B, Hepatitis C, mycoplasma, bacteria, and fungi.

Cryopreserved ampoule:

Primary culture, >500,000 cells in Endothelial Cell Basal Medium containing 10% FBS & 10% DMSO.

Kit contains:

Ampoule of cryopreserved HUVEC (200-05n), 500 ml Endothelial Cell Growth Medium (211-500), and a Subculture Reagent Kit (090K).

Proliferating Cells:

Shipped in Endothelial Cell Transfer Medium at 1st passage in either flasks or multiwell dishes.

Population doublings:

Can be cultured at least 16 doublings